We are pleased to announce that Dignity Health Mercy Medical Group has received the American Heart Association's Target: Type 2 Diabetes℠ Gold Award for its commitment to addressing the relationship between diabetes and the risk of heart disease and stroke.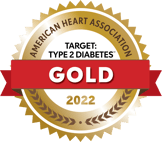 Cardiovascular disease is the leading cause of death and a major cause of heart attacks, strokes and heart failure for people living with Type 2 diabetes. In a recent survey of people ages 45 and older with type 2 diabetes conducted by The Harris Poll, only half of survey participants recognized or discussed their risk for heart attack or stroke with their health care team.
Target: Type 2 Diabetes addresses heart disease and stroke risk factors in patients with Type 2 diabetes as part of the Know Diabetes by Heart™ initiative, by the American Heart Association and American Diabetes Association. Target: Type 2 Diabetes helps ensure the care provided to patients is aligned with the latest evidence-and research-based guidelines.
"This recognition is directly attributed to the dedication of our talented teams to exceed national standards when it comes to diabetes treatment," said Dr. Alan Shatzel, DO, CEO of Mercy Medical Group. "Our success in meeting evidenced-based clinical guidelines developed to improve patient outcomes validates that we're delivering high-quality, patient-centered, coordinated care for our patients with Type 2 diabetes."
The Gold Award recognizes practices that have fulfilled the Participant criteria AND have met the specified Gold-level thresholds for each of two selected clinical measures related to diabetes control and CVD risk factors, hypertension and high cholesterol.
Dignity Health Mercy Medical Group was awarded this recognition by demonstrating a commitment to providing quality outpatient care for people with Type 2 diabetes. In addition to following treatment guidelines. They have also empowered patients with evidence-based information and tools.
"More than 37 million Americans live with diabetes, and cardiovascular disease is the leading cause of death for people living with Type 2 diabetes," said Howard Haft, M.D., MMM, CPE, FACPE, volunteer expert for the American Heart Association and executive director of the Maryland Primary Care Program, in Baltimore. "Organizations that participate in programs like this help raise awareness of the link between diabetes and cardiovascular disease and can improve patient outcomes. We are pleased to recognize Dignity Health Mercy Medical Group for its commitment to quality care."
Source link